What is Back Porch Therapy?
This name is reminiscent of the backporch lifestyle which beckons us to a simpler time - a companionable chat with a friend or neighbor bearing the "aha" of a new found solution to an everyday problem. To share a time of spirit-renewing reflection in a comfortable atmosphere, reminds us of sitting in a rocking chair on our own backporch. These private moments put us in touch with that place in us from which our best ideas come. Come sit a spell and define the possible in your life.

This is the setting Dr. Gem Moore offers you for your journey with her. The central focus is YOU...and your journey to becoming more attuned and in sync with those aspects of yourself that contribute to you being more "at home" with yourself...your heart and your goals.

Services offered include:

• Co-active Counseling- Individual Marital / Partnership
• Coaching- Individual Relationship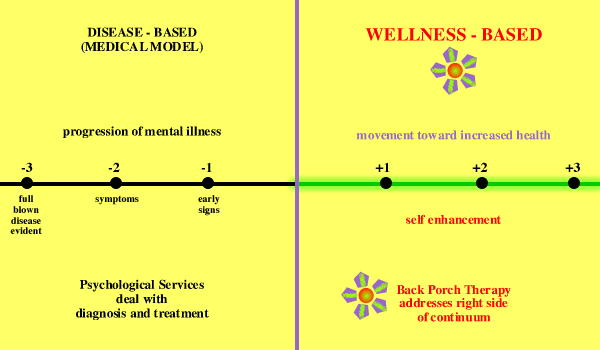 What is Co-active Counseling?

Co-active Counseling is two people partnering in an active colloboration to design a unique alliance dealing with life issues identified by the client. There is a recognition that the answers are within the client—there are no pre-determined solutions. The counseling process allows pattern recognition which frees the client to come up with their own solutions. They do not have to be fixed—they are not broken, but wholly capable of finding a solution to the identified issue. The counseling relationship seeks to affirm the client's learning and work style.

Fees:
Individual
Initial evaluation - $140
Individual appointment - $120
Couples
Initial evaluation - $180
Individual appointment for couple - $150
What is Personal Coaching?
Personal Coaching is a method used to promote effective change defined by the client's personally generated goals. This process helps mobilize internal resources to help actualize the client's aspirations and life dreams in work and personal life
Fees:
Initial evaluation-$140
Monthly charge for 4 half hour phone or in person-$280
Minimum commitment three months
Payment due at beginning of each month
Payment: Mastercard, VISA, and checks accepted. No insurance accepted as this is an experience for healthy people with everyday problems. For an appointment for services using health insurance, contact Foxcroft Psychological Services at (501) 225-2525 .



Cancellation Policy:
Credit card information and expiration date will be secured to reserve your space
Forty Eight hour cancellation required
Failure to show or cancel as required will result in a cancellation charge to your credit card.
ABOUT DR. GEM I SERVICES I EVENTS I NEWS I CONTACT